According to this morning's report from the BLS, headline inflation was 1.1% for the year ending in August. This is up from 0.8% for the year ending in July and also higher than markets had expected. The federal reserve will welcome this news as stubbornly slow inflation has been a major factor in their reluctance to raise rates, despite their clear intention. While growth in the all-items index remains well below the Fed's 2% target, core inflation indicates that the economy is moving in the right direction.
The all-items index less food and energy remained well above the headline index in August, up 2.3% year-over-year. Stripping out only energy prices, which are extremely volatile and sensitive to external factors, the consumer price index was up 2% in August.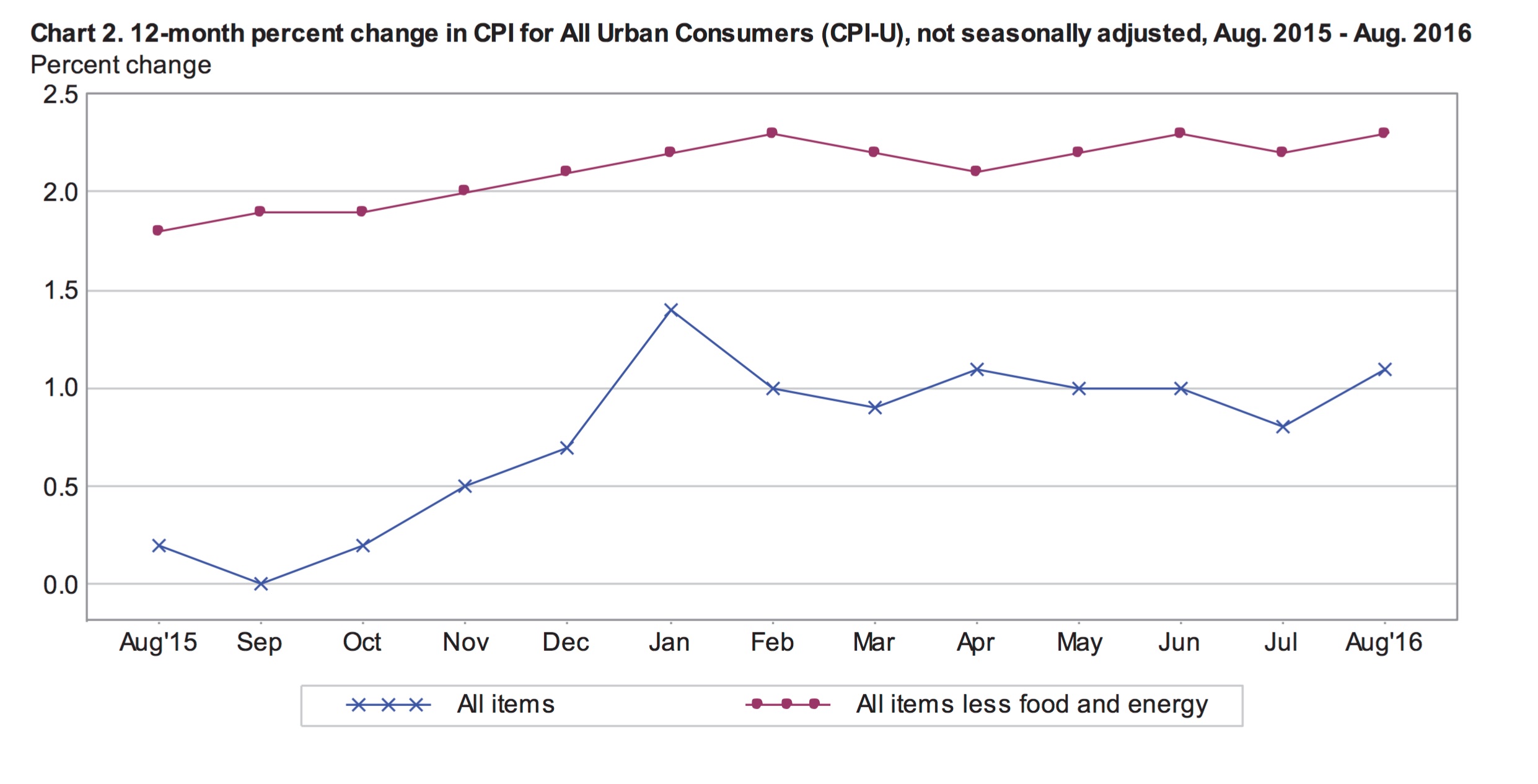 Monthly Inflation
Seasonally adjusted monthly inflation was 0.2% in August after remaining flat in July. Stripping food and energy from the index, seasonally adjusted  core prices were up 0.3% in August – more than expected. The monthly acceleration in the core index was largely driven by higher prices for shelter and medical care. The price indexes for food and energy did not change in August.


Prior to seasonal adjustments, the energy index fell 1.2% in August. Energy commodities fell 2.9% and energy services inched up 0.3%. The energy commodity index includes subindexes for motor fuels, fuel oil and other fuels, all of which were down roughly 3% in August. Energy services includes electricity, which remained unchanged and utility (piped) gas, which was 1.6% more expensive in August.
Unadjusted food prices were up 0.1% in August. The seasonal nature of food prices means adjusted numbers are often a more meaningful indicator of economic activity. On a seasonally adjusted basis, prices at the grocery store were down 0.2% in August. This includes a 6.6% decline in the price of eggs and a 1.5% drop in the index for breakfast cereal.
The shelter index, which represents one third of the all-items index, was a major driver of inflation for the month, gaining 0.3%. The subindexes for rent and owners equivalent of rent were up 0.3% and 0.4% respectively. The index for apparel spiked 1.5% in August while medical care costs were 0.8% higher. Airlines fairs dropped a notable 5.5%.
Inflation Over 12-Months
The 12-month inflation rate for the all-items index accelerated in August compared to July. Over the year, food and energy prices slowed inflation while medical care and shelter costs pushed higher. The shelter index was up 3.4% over 12-months. Medical care services including hospital services and physician services, jumped 5.1% year-over-year. Transportation service costs were up 3.1% due to a reported 6.5% increase in the price of motor vehicle insurance.
The net food index was flat over the 12-months ending August despite significant price movements within the index. The price of food at home (which accounts for about 58% of the food index) fell 1.9% and the price of food away from home grew 2.8%. At the grocery store, meat, poultry, fish and eggs is the largest component of the CPI. This subindex declined 6.5% over the year. The next largest component within the grocery store index is fruit and vegetables, this subindex added 0.3% compared to a year earlier.
Energy prices continued to create a large drag on inflation, although less in August compared to July. The index for energy commodities was down 17.3% for the year ending in August. At the pump, prices fell 17.8% over that period compared to 19.9% for the year ending in July. On the other hand, energy services only inched down an annual 0.4% in August.
Inflation by Region
Over the year, inflation was strongest in the West (1.6%) and lowest in the Midwest (0.6%). In the Northeast, inflation was in-line with the national average of 1.1%. However, inflation in the Northeast was significantly higher in cities with populations over 1.5 million compared to smaller cities (1.2% compared to 0.8%). This discrepancy is also evident in the South and West. Inflation in San Francisco was 3.1% for the year ending in August. In Chicago, prices were down 0.3% year-over-year.
| Urban Population | 12-month | August |
| --- | --- | --- |
| over 1.5 million | 1.3% | 0.1% |
| 50,000 to 1.5 million | 0.7% | 0.1% |
| under 50,000 | 0.8% | -0.1% |
| Urban Regions | 12-month | August |
| --- | --- | --- |
| Northeast | 1.1% | 0.1% |
| Midwest | 0.6% | 0.1% |
| South | 1.0% | 0.1% |
| West | 1.6% | 0.1% |
Outlook for the Fed
Today's inflation report should help the Fed come to more of a consensus over the timing of interest rate hikes. Despite having stated strong intentions to raise rates from their unprecedented lows, they have not been confident enough to follow through in a meaningful way.  It is not likely that they will raise rates when they meet next week or again in November.
However, expectations are growing for a rate hike in December despite the fact that other economic reports for August have been less than positive. Some economists argue the Fed would be wise to cut rates to keep steam in the economy but that is very unlikely. The expectations for an increase in the benchmark rate, measured by the market price of 30-day fed funds futures, increased on today's positive inflation surprise from 48.2% to 52.6%.