The Bureau of Labor Statistics released December's inflation report this morning, rounding out the year with an unexpected monthly decline in price levels. Most analysts had forecast the headline consumer price index (CPI-U) would remain flat in December, instead it fell a seasonally adjusted 0.1%.

Once again, falling energy prices weighed heavily on overall price levels; the seasonally adjusted energy index fell 2.4% in December. Food prices were also down 0.2% for the month. Core inflation, which excludes volatile food and energy prices, climbed a modest 0.1% in December, following three consecutive months of 0.2% growth. Most analysts had expected another increase of 0.2% in the core reading. Core inflation is considered a good indication of underlying price trends and appears to continue to creep higher. Prices for housing, a significant component of consumer spending (approximately 43%), were up 0.1% in December. Housing was the largest positive driver of inflation for the month.
Rounding out the Year
The CPI-U climbed 0.7% in 2015, following an increase of 0.8% in 2014 and 0.5% for the 12 months ending in November. This is the highest annual number recorded for the year. Prior to 2014, the US economy only recorded inflation below 1% once in over 50 years; headline inflation in 2008 was 0.1%.  The federal reserve targets an annual inflation rate of 2% so they are currently well below their target. According to the BLS, the CPI-U has increased at an average annual rate of 1.9% over the last 10 years.
Core prices climbed a healthy 2.1% in 2015 following an increase of 1.6% in 2014. Food prices were up slightly for the year but declining energy costs most impacted overall price levels. This created a large discrepancy between core and overall inflation numbers.  The energy index, which accounts for just over 7% of the total CPI-U, fell 12.6% in 2015 and 10.6% in 2014.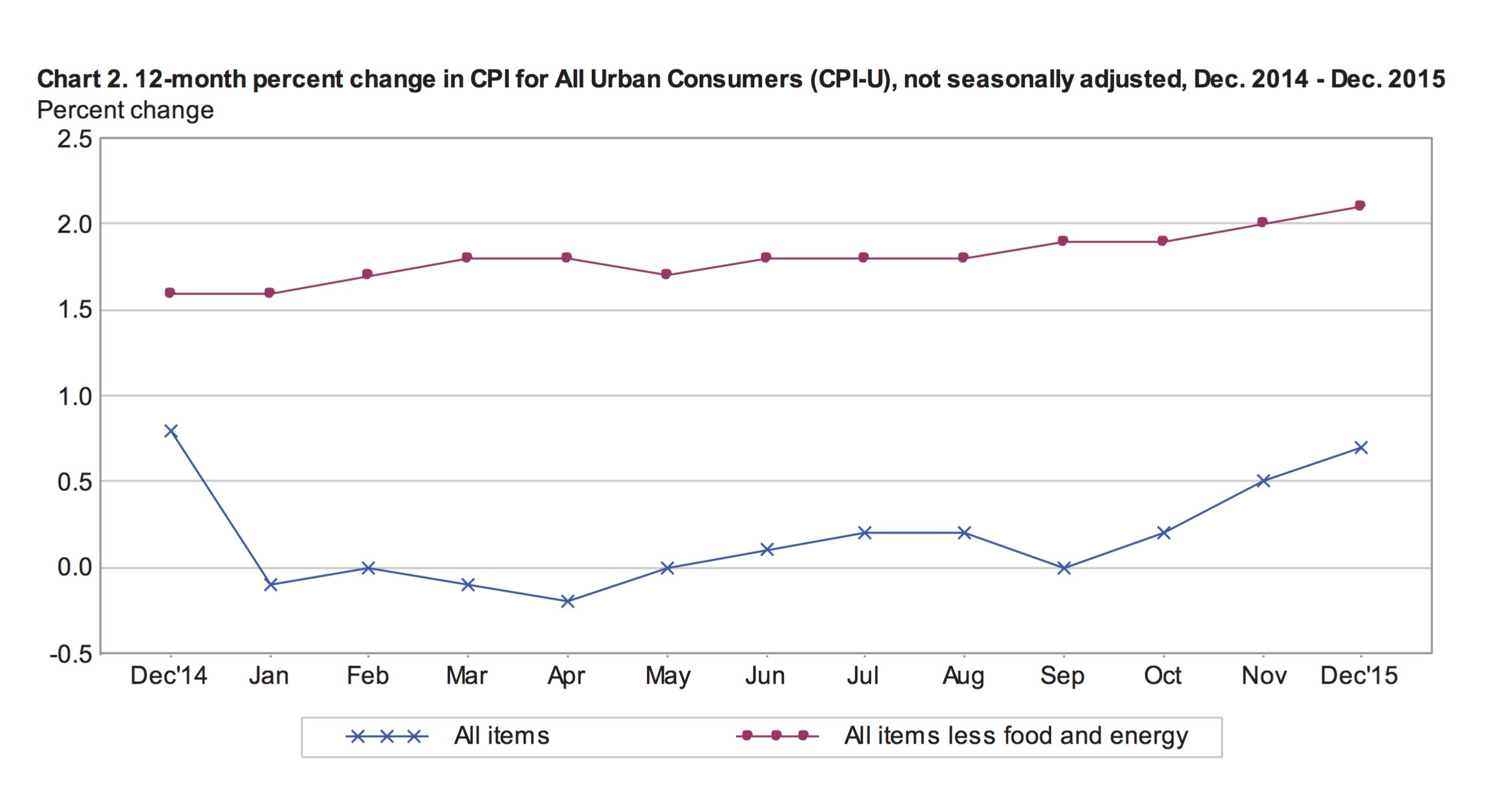 The cost of shelter, which is about a third of the overall price index, accelerated throughout the year climbing 3.2% and significantly contributing to higher overall prices. The shelter index includes rental costs. The cost of rent for primary residence increased 3.7% in 2015 and the index measuring owners equivalent of rent climbed 3.1%. In 2015, every component of the shelter index was higher, including a spike in moving, storage and freight costs of 12.9%.
The index for food was up 0.8% for the year ending in December. Within the food industry, prices were volatile and mixed. The price for cakes, cupcakes and cookies rose 2.3% and the price of eggs was 14.8% higher. At the same time, the price of ham fell 10.5% and milk costs were down 7.9% for the year.
Seasonally Adjusted Prices in December
For the month, energy was, again, the main driver of changes in price levels. On a seasonally adjusted basis, the cost of fuel oil fell 7.8% in December while gas prices were down 3.9%. The index for transportation slid a seasonally adjusted 0.8% for the month while the cost for new and used vehicles remained flat.
The index for food fell 0.2% in December following a decline of 0.1% in November. Food at home was 0.5% cheaper for the month, the largest monthly decline since March 2015. The cost of food away from home increased 0.1% in December following an increase of 0.2% in November.  The index for meat, poultry, fish and eggs posted its largest monthly decline since 1979, falling 1.4% in December; this includes a 3.4% decline in the price of eggs.
The price of shelter continues to rise, up a seasonally adjusted 0.2% in December matching November's increase. Medical care costs inched up 0.1% for the month, following more significant gains in October and November, 0.8% and 0.4% respectively.  The index for household furnishings and operations rose 0.2% in December. Higher prices were also recorded for motor vehicle insurance, education, used cars and trucks and tobacco. Prices declined in December for apparel, down 0.2% following 3 months of consecutive drops in the apparel index. Airline fares were down 1.1% in December after increasing significantly in October and November.
Economic Outlook
The Fed will be disappointed by today's CPI report as policymakers are hoping for strong inflation numbers before announcing another rate hike. Following December's hike, a second move is unlikely at least until the second half of this year.
While the US economy appears to be gaining strength in some areas, the inflation picture remains weak and wage growth is slow despite growing employment. Concerns have been raised about the impact of higher rates with inflation remaining weak. Yesterday, the IMF downgraded its forecast for global growth noting that higher US interest rates could further derail economic growth around the world. Higher rates will also slow the potential for economic growth domestically. Today's inflation report further weakens the likelihood of any rate hikes in the next year.
"Traders are worried that shifting to higher rates at a time when inflation is stubbornly low can elevate the risk of deflation, or falling consumer prices, which can derail business activity."
The strong US dollar will also lessen the likelihood of stronger inflation as import prices are very low. Cheap oil is also weighing on the economy both domestically and in the US. Oil prices have dropped significantly and at around $27/barrel are at their lowest level since 2003.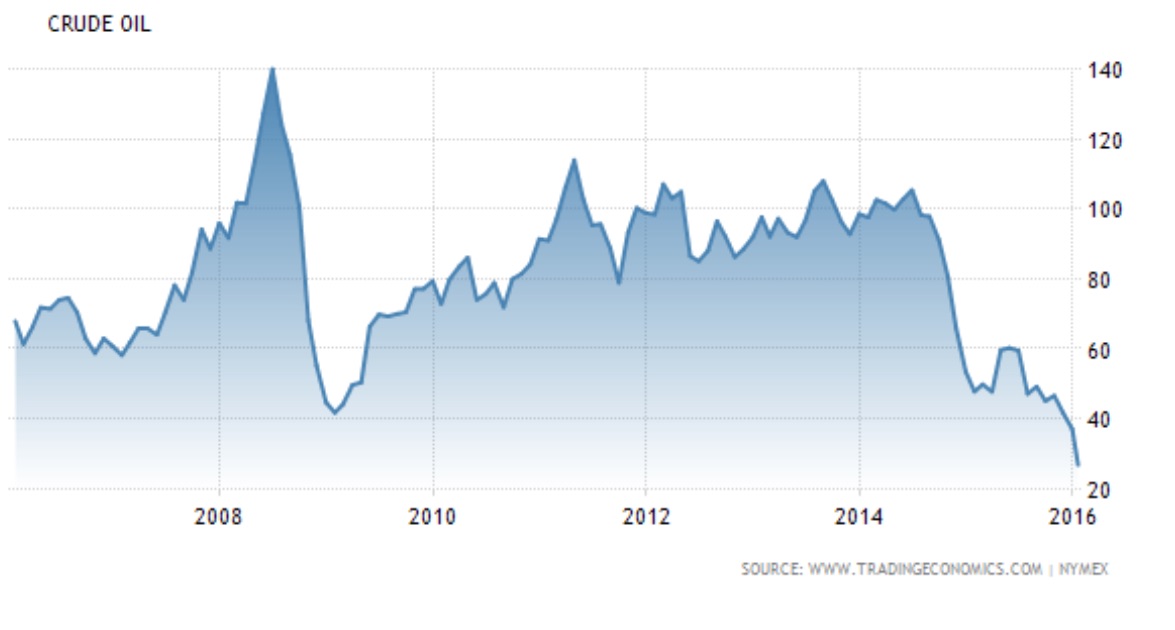 Senior Writer
at
CPI Inflation Calulcator

Latest posts by Emily Cross Leon (see all)