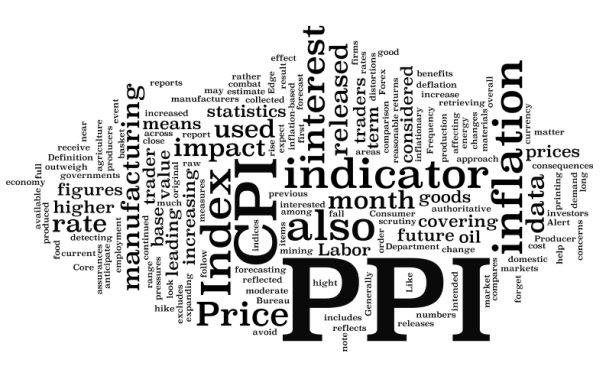 Stabilizing energy costs in May helped drive the producer price index of final demand higher by 0.5% MoM, the highest monthly gain in almost three years. Price increases were a direct result of surging gasoline prices, a significant input cost for business, which registered a 17% monthly increase. Rising gas prices accounted for 60% of total price increases in the index. Signs that the energy market is finding broad based support at current prices should see similar related cost pressures reflected in the broader CPI figures for the coming months ahead. May CPI is scheduled for release Friday 20th May.
Alongside energy, food costs also registered solid gains in the month of May, with prices rising 0.8% MoM, the first rise following 5 months of straight declines. Food prices were affected by a sharp increase in the price of wholesale eggs, which gained 56.4% last month following the outbreak of Avian Flu. The disease has caused the culling of millions of chickens worldwide and led to a severe shortage in egg supply.
While the May PPI figures will be welcomed by many as a sign that the severe deflationary trends present within the economy are starting to subside, the overall trend continues to trend downwards, with year over year figures showing a -1.3% drop in prices since April 2014.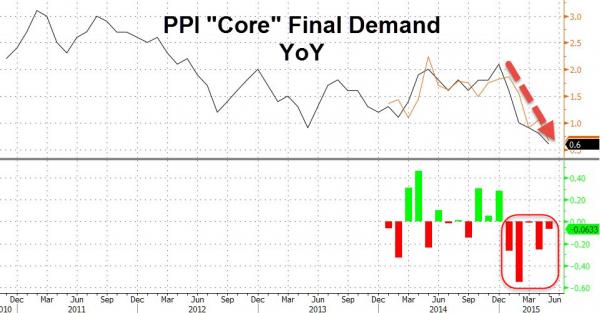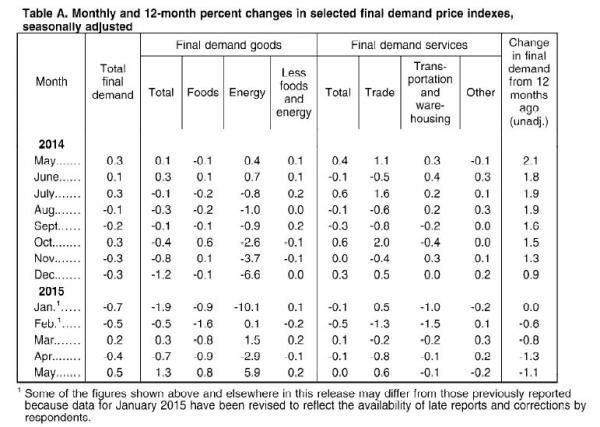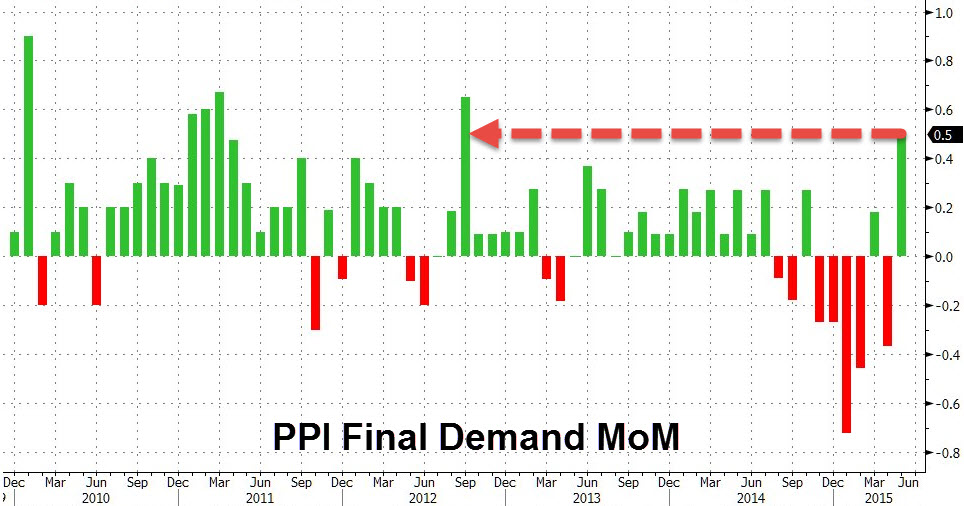 Consumer Confidence Highest since 2007
Complementing this week's strong PPI numbers was a resurgent University of Michigan consumer confidence report. The consumer sentiment index rose to 94.6 from 90.7 in May, the best reading on consumer sentiment since 2007. Tightening labor market conditions were widely cited as the catalyst for growing optimism, as workers anticipated higher wages in the months ahead. Improved confidence is also represented by strong retail sales numbers across the board despite higher gasoline prices during the month. Retail sales increased 1.2% in May, beating analysts' forecast of sales growing at a pace of 1.1%. There were also notable revisions for the March and April numbers. April retail sales were revised upward 0.2% and March's numbers were also revised to 1.5% from 1.1%. The improved retail numbers in recent months will be a welcomed trend amongst the Fed in particular, who are desperate for signs of increased activity in the sector.
Growth Outlook
Recent data points suggest the second half of 2015 could see an overall improvement in growth, following a highly disappointing start to the year. While recent PPI and CPI data have highlighted potential inflationary forces in play via stabilizing energy prices, the overall deflationary trends remain, and will still be the main cause of concern at the Federal Reserve. On face value the US economy seems to be on strong footing, but there are several undercurrents at the moment which will likely breed caution in policy makers with regard to future rate hikes. Greece continues to dominate the headlines, with the threat of a potential default looming large over markets. While the market, most notably the equity markets, appear to have priced in any potential contagion effect from Greece, it remains to be seen if the financial sector is resilient enough to absorb such a credit event from a European sovereign. Continued gyrations in the currency markets are also likely to generate a sever headwind for corporate profits in the growth coming quarters, and will also lead to more timid growth.
Overall, the growth outlook remains finely balanced – the best case scenario sees a more resilient consumer taking center stage of the economy which would likely be reflected in an improving employment picture going forward. The bear case still points to tepid wage growth, and several geopolitical and external economic events which are likely to push back the recovery.
Fed Watch
May CPI numbers will be released by the Labor Department on Thursday 8th June with the market widely expecting a modest continuation of the monthly upward trends. As noted previously, particular attention for signs of any moderation in medical related inflation which has been running hot throughout 2015 and could become a potential drag on the consumer going forward. Ongoing events in Greece may diminish the market effect of the upcoming CPI release, but there will be significant attention paid to any outliers in the data, to glean further insight into the direction of the Fed.

Andrew McCarthy is an expert in all things inflation. He has a Bachelors in Economics and has been working in the finance industry for over two decades.